Birmingham Barons to Light Up the Skies with Fireworks, Elvis & More
---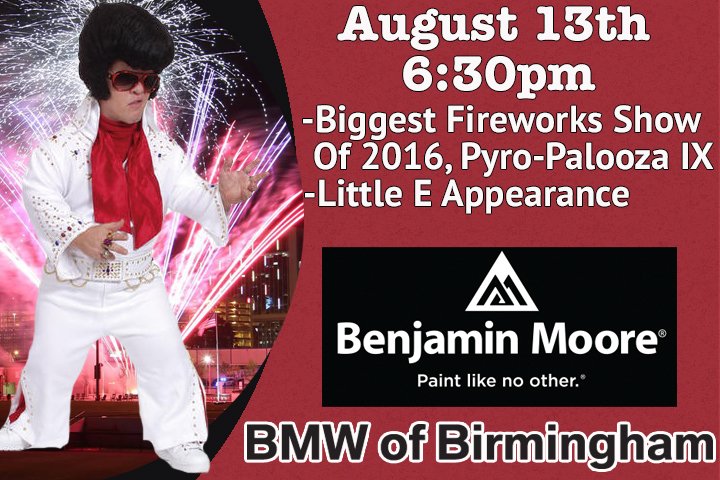 The Birmingham Baron's are promoting an extravaganza of sorts at Regions Field on August 13th sponsored by Benjamin Moore and BMW of Birmingham.
---
Sponsorship Buddy's take:
1) Thanks to the "Fun Is Good" Mike Veeck mentality, minor league baseball has become the haven for creative sponsored theme nights where nearly anything will be tried for the sake of good, clean, American fun at the ballpark.  Is there ever such thing as too much? 
2) "Pyro-Palooza IX" will be the centerpiece.  But not only that, local little person legend Little E will be making a vaunted appearance and will be accompanied by the smooth vocals of Elvis.  Fireworks always draw great crowds and this presents a unique twist.  Who needs M.J. when you have Little E?
3) This isn't the 1st "Pyro Palooza." It's an established thing in Birmingham.  But will tagging two sponsors create confusion when it comes to recall and results for the night and surrounding activation activities or is there a plan to more clearly differentiate to maximize impact? Looking at the Barons Promotional Calendar illustrates no shortage or sponsors or fear of doubling or tripling up on particular theme/sponsored nights.